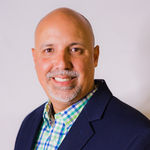 Rudy Martinez
Realtor® Partner
Rodolfo "Rudy" Martinez is a distinguished aviation veteran who spent 19 dedicated years at JetBlue Airways. His career at JetBlue was marked by unwavering commitment and a track record of excellence, making him a respected figure in the aviation industry. Rudy's dedication to service extends beyond his aviation career. He proudly served as a Marine, exemplifying the values of honor, courage, and commitment. His military service instilled in him a strong sense of duty and discipline that he carried with him throughout his professional life.
In addition to his impressive career and military service, Rudy is a loving husband to his wife, Bessy, and a devoted father to two remarkable boys, aged 14 and 13. Family is at the heart of his life, and he cherishes every moment spent with his beloved wife and children. Rudy's passion for life extends to his leisure activities. He has an unyielding love for travel, and his adventurous spirit continues to lead him to new destinations. His journeys are often shared with his family, creating meaningful and lasting memories. In addition to travel, Rudy is an avid sports enthusiast, enjoying both the thrill of watching and participating in various sporting activities.
Our Clients Are Our Top Priority
"This was my first time selling a home and this is the best group of realtors to do the job!"
"My wife and I was looking for the right place for a business location and just didn't know where to
…
Read More
start. We reached to out the Bridget Moore Group for help and directions. Soon enough we were in the right place because of their hard work. They are an amazing company that takes great care of their clients. We love and appreciate everything they do"
Read Less
"We absolutely love our family at Bridget Moore Group! We found them when getting ready to buy our
…
Read More
first home at 22yrs old with a VA loan and they made the process so easy and didn't leave us out of any part of the process. We love Bridget and Richard and can't wait to give them a call in the future when we sale!"
Read Less
"Sean was patient with us as we went through waves of being indecisive. We chose an inventory home an
…
Read More
d after 6 months of waiting we changed our minds and went with a home already finished. He was in our corner the whole time and was eager to help us, take our call, look at homes and whatever else we needed, he was there! The Bridget Moore group in general has great tools for their agents and overall was a great group to work with! Will definitely be calling Sean again when we decide to invest in some other properties! Very smooth experience!"
Read Less
"Best experience ever. Sold house in 45 minutes"