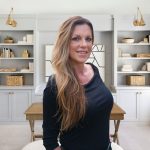 Chermayne Kennedy Busch
Realtor® Partner
Chermayne is a Louisiana native and has called Houston home since 2001. An Entrepreneur at heart, she started her own Chef Service providing healthy meals to Houston Rockets NBA players and was featured in Sports Illustrated in 2004 for being Cuttino's Chef.
She has always been passionate about real estate and obtained her license in 2017. Committed to providing the best in customer service, real estate has allowed her to focus on building relationships by using the same client centered approach with Houston Executives and many families.
Chermayne is a great listener, detailed oriented and shines under pressure. She's committed to exceeding client expectations and helping Houstonians achieve the American dream of home ownership.
In her spare time, Chermayne loves spending time with her twin boys and of course, cooking! She enjoys working out, outdoor sports, snowboarding & horseback riding.
Our Clients Are Our Top Priority
"My wife and I was looking for the right place for a business location and just didn't know where to
…
Read More
start. We reached to out the Bridget Moore Group for help and directions. Soon enough we were in the right place because of their hard work. They are an amazing company that takes great care of their clients. We love and appreciate everything they do"
Read Less
"We absolutely love our family at Bridget Moore Group! We found them when getting ready to buy our
…
Read More
first home at 22yrs old with a VA loan and they made the process so easy and didn't leave us out of any part of the process. We love Bridget and Richard and can't wait to give them a call in the future when we sale!"
Read Less
"Sean was patient with us as we went through waves of being indecisive. We chose an inventory home an
…
Read More
d after 6 months of waiting we changed our minds and went with a home already finished. He was in our corner the whole time and was eager to help us, take our call, look at homes and whatever else we needed, he was there! The Bridget Moore group in general has great tools for their agents and overall was a great group to work with! Will definitely be calling Sean again when we decide to invest in some other properties! Very smooth experience!"
Read Less
"Best experience ever. Sold house in 45 minutes"